Just a refresher, Roma Boots is an amazing brand located in Dallas, Texas that gives back to children in need all over the world. Founder Samuel Bistrian started Roma in 2010 wanting to have a outlet which combined his love for fashion as well as his humanitarian efforts. You can read more about Samuel and the start of Roma here.
Fun fact- Roma, spelled backwords, spells amor– which means love. One of the main missions of Roma is to spread love to those around the world. Pictured below is Samual Bistrian (photo taken from Roma Boots).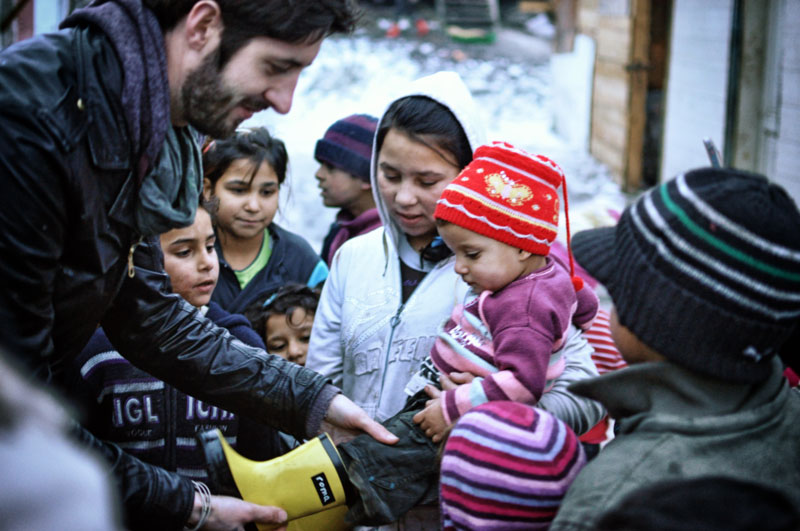 What They Do:
Roma boots gives back to charity by donating rainboots to children in need all across the world. For every pair of boots that is purchased, a new pair filled with educational supplies is donated. In addition to this, 10% of all proceeds of Roma Boots goes to the "Roma for all" foundation. In addition to giving, Roma also participates in "Boot drops", in which they partner with non-government organizations and actually visit countries across the world, giving boots to the local children- whether it be at a park, school, or simply children on the street.
Making a pair of Roma Boots takes about 45-60 days, and each pair is all natural rubber. Samuel is the lead designer of the company, while Roma continuously works with focus groups in order to stay on trend when creating new concepts, as well as also working with local artists to create new designs. Once a year Roma Boots hosts an event called "Day of hope" where boots are used as canvas and artists concepts comes to life on a pair of rain boots. These boots are then sold as limited editions, as only a few of them are made. One amazing thing about this company is the genuineness of their mission. It is very clear that the mission of Roma Boots is simple- to give back to those in need. The words below are from Samuel himself during our interview and are an intelligible example of everything Roma stands for:
"You can be motivated by greed or good. If you're motivated by good and by love, everybody is going to benefit. Whether it grows or not,you will be remembered as something great. That's what separates social business by money business- we don't measure our success by what we've made but by the impact we've made on others lives. Hope and love is universal- that's what we've been trying to achieve." – Samuel Bistrian